3. Power Supply Solution for Medical Places
3.1 ICU, CCU Ward Distribution Solutions (e.g. GGF-I8G isolate electrical cabinet system diagram)

Option I without fault location function

Option II with fault location function
NOTE: In the power distribution solutions of intensive care unit , AID series centralized alarm and display device
should be installed in the nurses 'station, the hospital staff of nurses' station monitor the Operating status of
each isolated power system.
Operating room solution configuration table


3.2 Operating Room Distribution Solutions (e.g. GGF-O8G isolate electrical cabinet system diagram)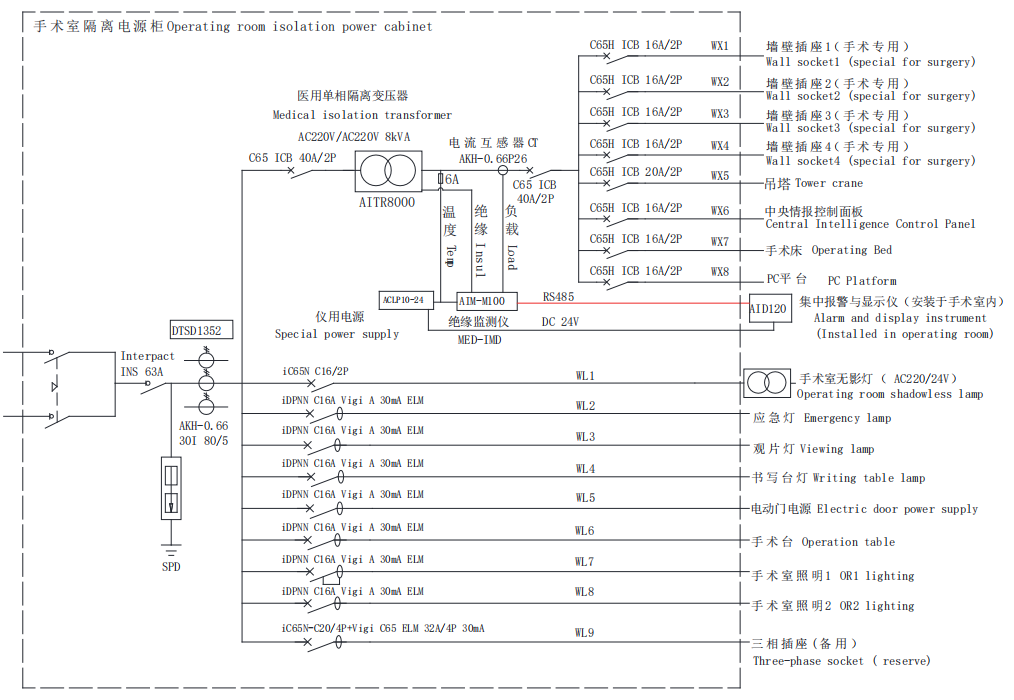 Option I without insulation fault location function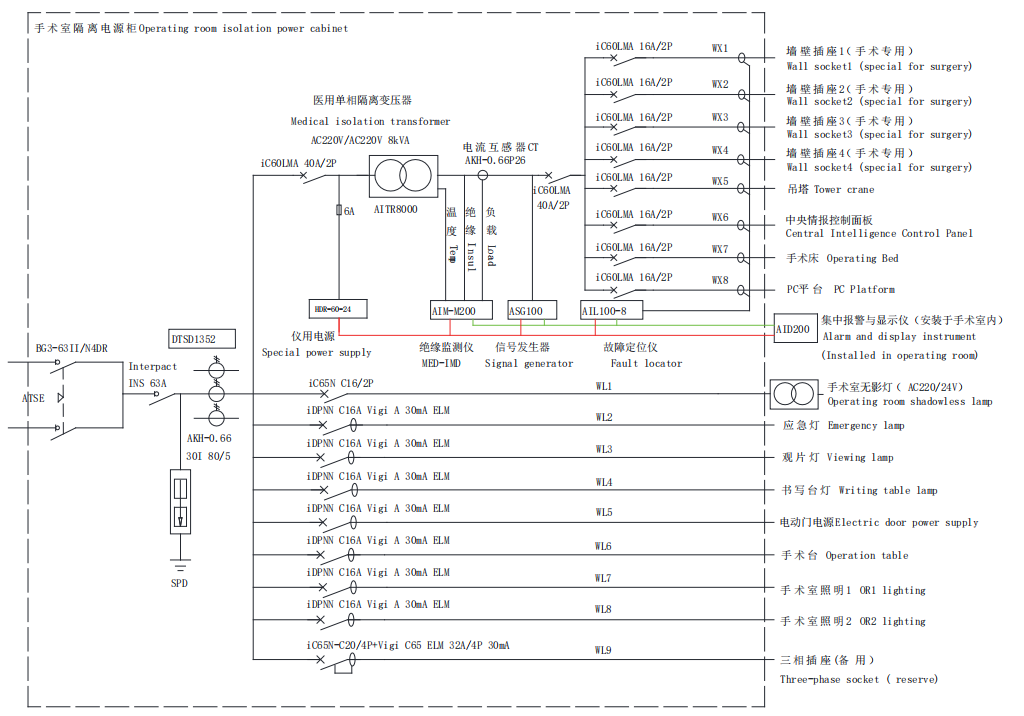 Option II with insulation fault location function
Notes:
1. In the operating room power distribution solutions, AID series of external alarm and display device
should be installed on the intelligence panel inside the operating room, or next to the intelligence panel (in-wall
installation). During surgery, the medical staff monitor the health of isolated power system.
2. In the scheme with insulation fault location, if you need to locate the loop over eight, two AIL100
locator can be implemented, the combination can be AIL100-8 type and AIL100-4 type (up to 12 channels positioning),
or AIL100 -8 and AIL100-8 type (up to 16-way positioning).
Operating room solution configuration table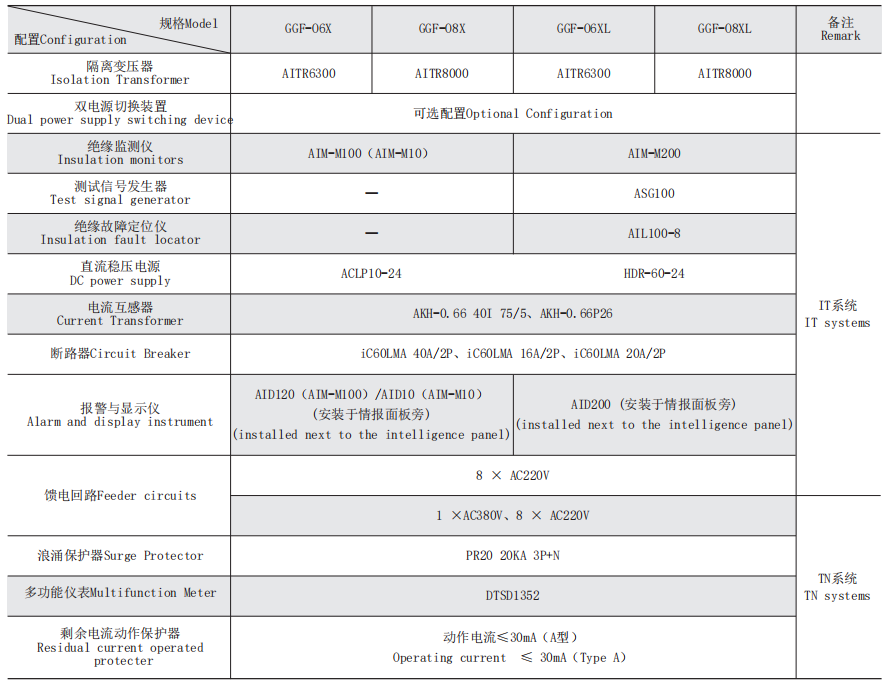 3.3 Medical isolation power supply cabinet
Medical isolation power distribution cabinet is a cabinet with a local IT systems designed for medical group 2 power requirements .Insulation monitoring device installed in IT system monitor insulation condition of the system ,Each output circuit has a circuit breaker with short circuit protection function;the output circuit in TN-S system has a circuit breaker with leakage protection, Products are divided into GGF-O series three-phase isolated power cabinet, GGF-I series single-phase isolated power supply cabinet, according to the number of input voltage phases,these products can satisfy the power safety and reliability requirements of various operating room and intensive care unit ,and the products meet GB16895.24-2005/IEC60364-7-710:2002 Electrical installations of buildings—Part 7-710:Requirements for special installations or locations—Medical locations and GB7251.12-2013/IEC 61439-2:2011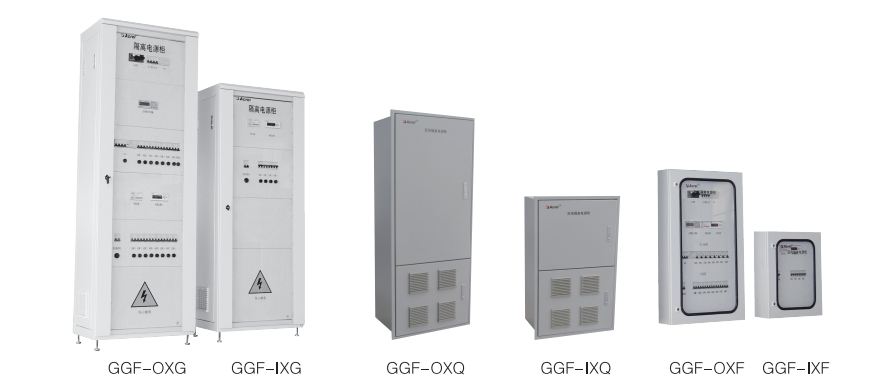 Technical parameters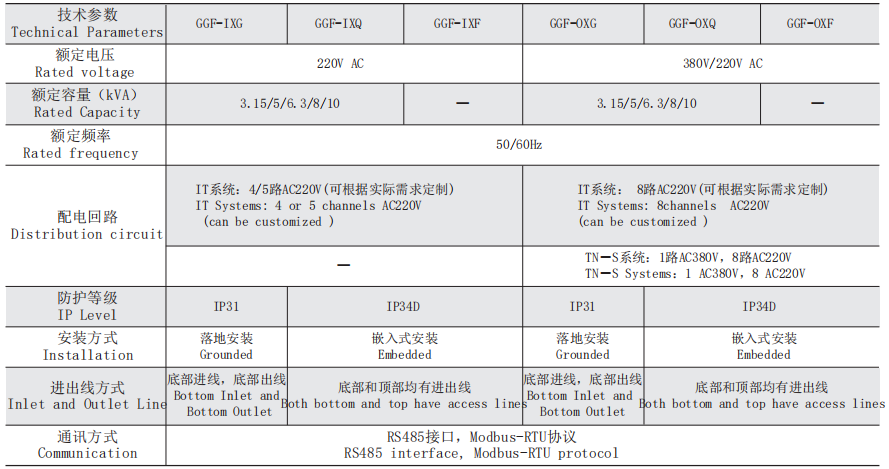 Notes: 1.GGF-IXF and GGF-OXF type is remote installation of power distribution equipment, the isolation transformer is placed outside of equipment.
2.In order to meet the special requirements of install conditions in different places,ACREL can customize multiple sets (2-4 sets) isolated power system cabinet , size of the cabinet is 800 (W) × 500 (D) × 1800 (H) or 800 (W) × 800 (D) × 1800 (H).
Naming Rules
Ordering Information
Product Dimensions(unit: mm)