4.4 DC Power Supply
4.4.1 ACLP10-24 DC Power Supply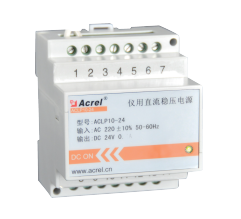 DC power module is used specifically for the instrument,It uses fully isolated linear transformer with output voltage stability, low ripple and high pressure levels,And it comes with the power supply indicator.
Module uses standard rail mounting,It can be installed on the same rail as insulation monitors, it is easy to be installed.
Technical Parameters
| | |
| --- | --- |
| Input voltage | AC 220V(±10%) |
| Frequency | 50/60Hz |
| Power | 3W |
| Output voltage | DC 24V±5% |
| Voltage Regulation | ≤30% |
| Temperature Rise | ≤20℃ |
| Withstand voltage | 4000V AC/Min |
Overall and installation dimensions(unit:mm)

4.4.2 HDR-60-24 DC Power Supply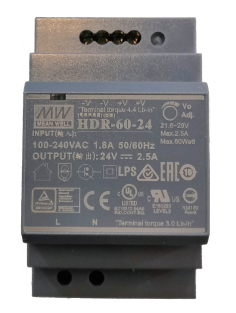 HDR-60-24 DC power supply can provide 24V DC power supply for the AIM-M200 Medical intelligent insulation monitoring device, ASG100 test signal generator, AIL100 series insulation fault locators and AID200 centralized alarm and display and other instruments.The power supply has a high output power, stable voltage output, easy installation features, It can meet the power requirements of the meter,and is the recommended power supply products.
Technical Parameters
| | | | |
| --- | --- | --- | --- |
| Model | Input | Output | Installation |
| HDR-60-24 | 100-240VAC 1.8A | 24VDC 2.5A | 35mm rail mounting |
Overall and installation dimensions(unit:mm)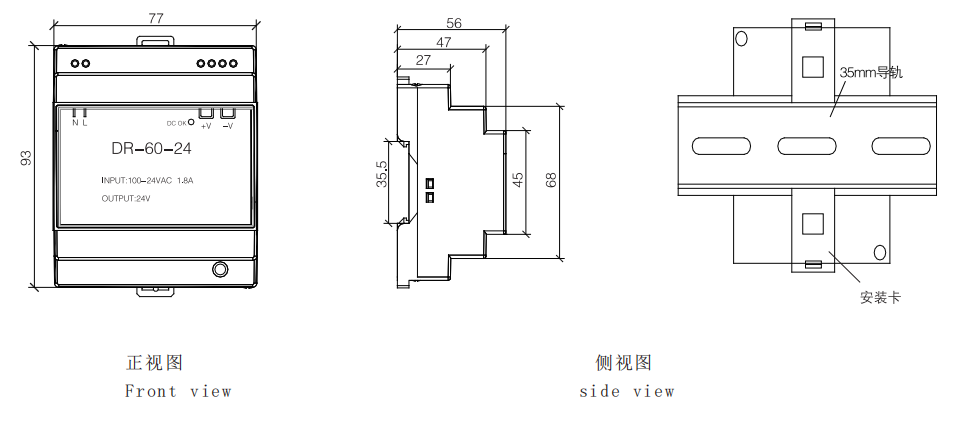 Model Selection Description
ACLP10-24 DC power supply is a linear power supply,Its input can be directly connected to the secondary side of the isolation transformer, the output power is 3W,It can only provide 24V DC power supply for a single AID100, AID120 or AID150. HDR-60-24 is switching power supply,the output power is 60W,it is usually used in conjunction with AIM-M200 and other insulation monitoring and fault localization products, it provide 24V DC power supply for these products.